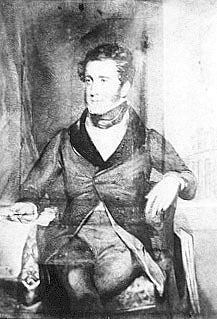 George Allen - Architect 1798-1847
Photograph of a painting kindly provided by the Allen family
Stock Page Stock - History
Stock Page Stock was founded in
1825
by a Mr George Allen, as Architect and Surveyor with offices in Tooley Street, Southwark. A pupil of James Elmes, he entered the Royal Academy Schools in 1818, and won the Silver Medal in 1820. He exhibited at the Academy between 1820 and 1840. He designed many buildings, including Schools, Warehouses and was employed by both Railway and Dock Companies, and was the surveyor to the Haberdashers' Company, the Deptford Creek Bridge Company, the district of Rotherhithe & Hatcham, and the parishes of St. Olave & St. Nicholas, Deptford. In
1827/8
he published a book about roads approaching London Bridge, which was being rebuilt at that time and about which his plans were adopted.
When George Allen died in 1847, his business was carried on by his pupil Henry Stock, who had been in Allen's office from 1840 until 1846. Stock entered into partnership with William Snooke and set up at
69 Tooley Street
, which was Allen's old office. For much of the 1850's the practice was known as Allen, Snooke and Stock, only becoming Snooke and Stock after
1856
. William Snooke was principally a surveyor, though he described himself as 'Architect & Surveyor', and is credited with designing the warehouse at Cotton's Wharf in which Tooley Street Fire started. He took over from Allen the post of District Surveyor for Rotherhithe and Hatcham and held it until his death in 1883. The assistance of a surveyor was obviously very useful to Stock in a practice which was mainly concerned with industrial buildings.
Henry Stock seems to have been a capable architect. His friend, Edward I'Anson, President of the R.I.B.A. described him as 'an able designer and one of the most honourable men of business with whom I am acquainted'. In addition to his post as parish surveyor to St. Olave's, Bermondsey, Stock was appointed County Surveyor for Essex in 1857 (in succession to Thomas Hopper) and surveyor to the Haberdashers' Company in 1882. These public offices brought him a substantial amount of work. In 1851 he designed new buildings in the Tudor style for St Olave's Grammar School, which were demolished in 1892 to make way for more elaborate buildings by Edward Mountford, still surviving on the north side of Tooley Street. For the Haberdashers' Company he designed Aske's Hatcham Girls School and also St. Catherine's church and vicarage at Hatcham. But the main work of his partnership was industrial and commercial buildings and the firm's work includes Peek Frean's Biscuit Factory in Bermondsey, warehouse and offices at the Anchor Brewery in the Mile End Road, Young's Brewery in Wandsworth and the rebuilding of Cotton's Wharf after the 1861 fire. George Allen's connection with the Humphrey family continued in two major groups of warehouses at Hay's Wharf and at Hibernia Wharf on the west side of London Bridge.
The preferred style for 19th century institutional buildings, whether schools, hospitals or almshouses, was Elizabethan. Stock proved himself competent in this style, but for his commercial buildings he kept to the tradition established by Allen and made no attempt to introduce Elizabethan or Gothic detail. At Hay's Wharf the offices and tea auction rooms are entirely classical with a slight Italianate flavour. The elevations of the warehouses either side are treated as long arcades of extremely tall round-headed arches standing on a basement which is also pierced by arches. The same treatment was later used for rebuilding of Cotton's Wharf and despite the irregular layout of these two vast groups of warehouses, the motif of the tall arcades gives them a measure of architectural unity.
Henry Stock's son, again named Henry Stock, joined the firm in the
1880's
and designed Upper Thames Street and the Hamberg/American Line Building in Cockspur Street, off Trafalgar Square.
In
1906
Robert Page joined the firm and it was then that the firm was appointed as official Surveyors for the Haberdashers' Livery Company and other Estates around London and became known as Stock Page Stock.
The letterhead at that time stated 'Stock Page & Stock, Architects, Surveyors and Industrial Planning Consultants'
The firm had offices at
207 New Cross Road
in South London and
Wren House, Portsmouth Road, Esher
until the
1980's.
In fact, Henry Stock junior designed Fairlawn Mansions, of
New Cross Road
, which was built for the Haberdashers' Company in the 1880's for the deserving poor of London, and is still managed by Stock Page Stock today. The Company moved to
Old Street, London, EC1
in the early
1980's
and then in
1997
moved to offices at
Aldersgate Street, London, EC1
.
In
June 2008
the company moved further up the road to our current office at
83 Goswell Road, London, EC1.
Since the commencement of the
1990's
the firm of Stock Page Stock has been actively involved as Valuers, Estate Agents and in particular residential block management.
Although many of our managed properties have been sold on to different Freeholders down through the years, Stock Page Stock still manages blocks of flats originally designed and built by the Company for the Haberdashers' Society, nine of these being 100 years old in 2005. As stated above, our Company has been managing a block in New Cross Road for getting on for 136 continuous years.
We believe that over a 136 continuous years of managing the same block is a record in London.